FLIGHT PERCH
SPECIFICATIONS:
- Racing clutch perch set for cable type clutch developed with YOSHIMURA racing team.
- Comes with quick cable adjuster for quick and easy clutch play adjustment, even during the ride.
- Hinge style clamp for easy and quick maintenance and installation.
- Hinge pin is made of titanium alloy for right weight and durability.
- Lever bearing for less friction. Fully CNC machined, super light weight design.
- Holes on lever body is designed to decrease wind pressure up to over 300 km / h.
- The braking point is pre-calculated in case of a fall.
- Lever swings up forward in the event of crash and prevents lever breakage.
- Available 3 finger and 4 finger lever arm lengths.
- Conforms to FI M and M FJ regulations.
- Used by Yoshimura Japan racing team, Yoshimura Suzuki factory racing USA and Yamalube/Westby racing.
| | | |
| --- | --- | --- |
| Lever Type | Ti-color | Black |
| 4 Finger | ZS60-5883 | ZS60-5887 |
| 3 Finger | ZS60-5886 | ZS60-5888 |
Replacement Lever Assy
Lever Type
Ti-Color
4 Finger
ZS60-5909
3 Finger
ZS60-5906
Replacement Lever Arm
ZS60-5995
3 Finger Ti-color
ZS60-5990
4 Finger Ti-color
ZS60-5994
3 Finger Black
ZS60-5991
4 Finger Black
Replacement Perch Assy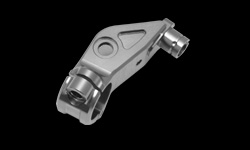 ZE60-5919
Replacement Adjuster
ZS60-5929
Red
ZE43-9394
Blue
Bolt set
ZS60-5939