FLIGHT PERCH
SPECIFICATIONS:
- Clutch perch set for cable type clutch developed with YOSHIMURA racing team.
- Flight perch comes with 3 fingers short lever arm.
- Developed with World Super Bike racing team, Crescent Suzuki.
- Comes with quick cable adjuster for quick and easy clutch play adjustment, even during the ride.
- Lever bearing for less friction. Fully CNC machined, super light weight design.
- Conforms to FI M and M FJ regulations.
| | |
| --- | --- |
| Parts Number | Lever Type |
| ZS60-5883 | 4 Finger |
| ZS60-5886 | 3 Finger |
Replacement Lever Assy
Part number
Lever Type
ZS60-5909
4 Finger
ZS60-5906
3 Finger
Replacement Lever Arm
ZS60-5995
3 Finger
ZS60-5990
4 Finger
Replacement Perch Assy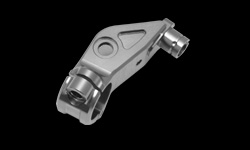 ZE60-5919
Replacement Adjuster
ZS60-5929
Red
ZE43-9394
Blue
Bolt set
ZS60-5939