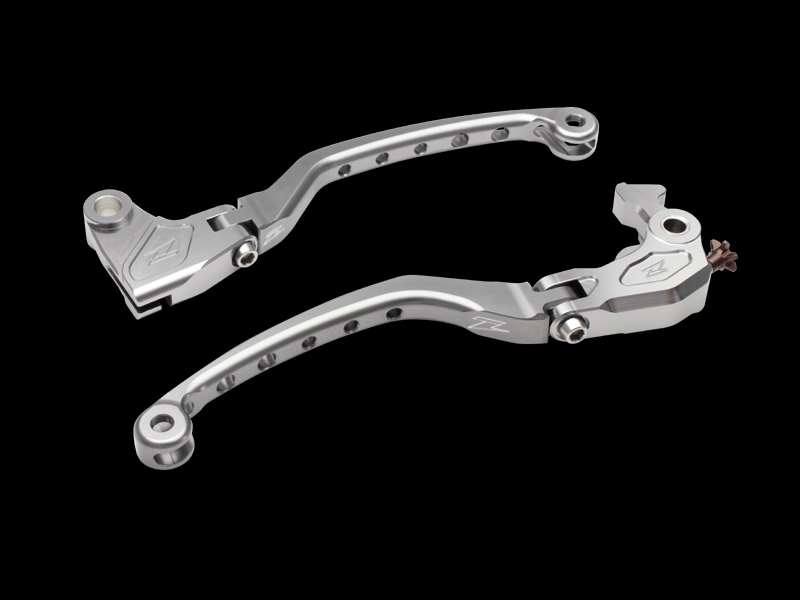 FLIGHT LEVER
SPECIFICATIONS:
- Used by YOSHIMURA Racing team, US YOSHIMURA SUZUKI FACTORY RACING TEAM, WESTBY YAMALUBE YAMAHA and Kawasaki Team Green.
- Holes on lever body is designed to decrease wind pressure up to over 300 km / h.
- The braking point is pre-calculated in case of a fall.
- Fully CNC machined from A7009 / A6061 aluminum, super light weight design.
- Conforms to FI M and M FJ regulations.
- Available 3 finger and 4 finger lever arm lenths.
- Available in black and titanium anodized colors.
Replacement Lever Arm 4 finger
Clutch Lever Arm
Brake Lever Arm
Lever Type
Color
Part number
Lever Type
Color
Part number
L4SH
Ti-Color
ZS60-5980
R4SH
Ti-Color
ZS60-3990
L4SH
Black
ZS60-5981
R4SH
Black
ZS60-3991
L4SP
Ti-Color
ZS60-5990
Replacement Lever Arm 3 finger
Clutch Lever Arm
Brake Lever Arm
Lever Type
Color
Part number
Lever Type
Color
Part number
L3SP
Black
ZS60-5994
R3SH
Black
ZS60-3994
L3SP
Ti-Color
ZS60-5995
R3SH
Ti-Color
ZS60-3995
Adjust Knob
Color
Part number
Red
ZS60-9113
Brown
ZS60-9119