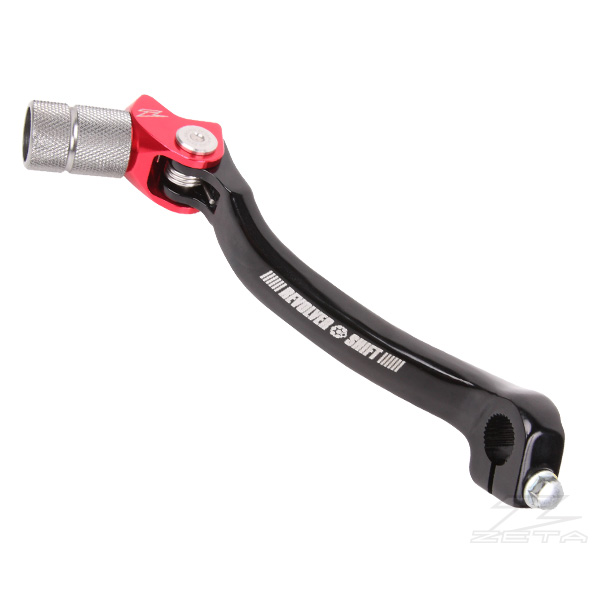 REVOLVER SHIFT LEVER
SPECIFICATIONS:
- Revolving shift tip design provides best shift positions for all riders.
- Rotating shift tip provides 6 different positions, offer more sensitive shift position adjustment.
- Shift arm is made of A2014 forged aluminum for durability.
- Forged arm is black anodized finish with laser print logo.
- Foldable shift tip is made of CNC aluminum with knurled finish for better shift grip.
- Shift tip is color anodized with ZETA laser print logo.
- Replacement shift tips and tip mounts are available.

*Monkey 125
Remove shift linkage and install this
shift lever, provide more secure and direct shifting.
* Neutral position will be sensitive.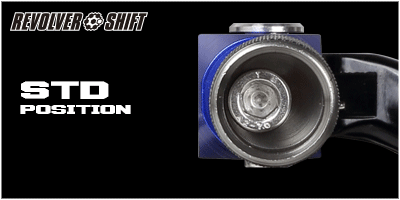 Option Stainless Shift Tip
Part number
2
Size
ZE90-3940
2
23mm
ZE90-3950
2
28mm
Replacement Shift Tip
Part number
Color
Size
ZE90-3920
Ti-color
23mm
ZE90-3930
Ti-color
28mm
* Use replacement parts shown on the application list.
Replacement Tip Mount
Part number
Color
Type
ZE90-3900
Black
Straight type
ZE90-3902
Red
ZE90-3903
Orange
ZE90-3906
Blue
ZE90-3912
Red
Offset type
ZE90-3913
Orange
ZE90-3916
Blue
ZE90-3919
H-Blue
* Note replacement chip mount, please use the same shape as the compatibility table.
If you install a different shape and may interfere with the engine case cover.