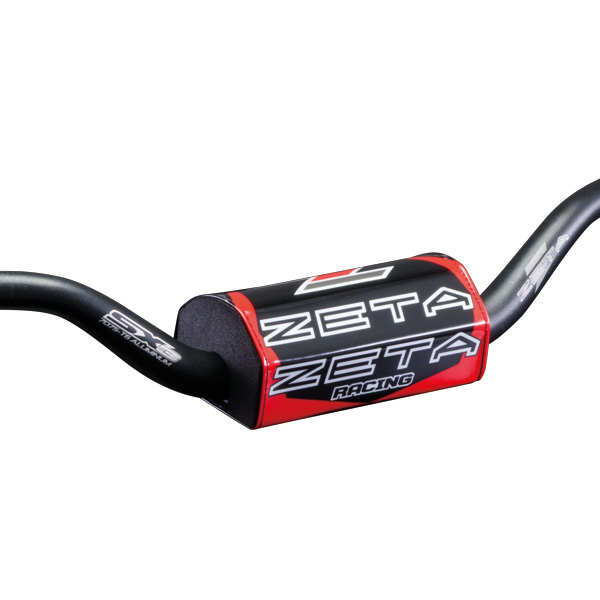 SX-3 HANDLEBAR 1 1/8 in (28.6mm)
SPECIFICATIONS:
- ZETA revolutionary over-sized handlebar.
- Tested and developed by Japanese factory riders.
- Made of A7075-T6 aluminum for strength and durability.
- Knurled grip area to resist slippage.
- Many bends available for MX racers, ED, Mini racer, Free style, Super Motard, and Trial.
- Included large size foam bar pad.
- Available in black, red and blue color.
Model
Part #
Handlebar dimensions
Color
A
B
C
D
E
Black
Red
Blue
MX-111
ZE06-111
806
83
49
215
53
●
●
●
MX-123
ZE06-123
806
98
64
215
53
●
●
●
MX-214
ZE06-214
803
95
57
213
54
●
●
●
MX-313
ZE06-313
805
80
52
205
60
●
●
●
MX-414
ZE06-414
803
84
55
209
49
●
●
●
MX-415
ZE06-415
804
91
54
210
52
●
●
●
MX-542
ZE06-542
811
79
42
195
50
●
 
 
MX-543
ZE06-543
805
88
61
205
40
●
 
 
Super-Low
ZE06-602
805
65
29
200
48
●
 
 
Super Moto-Low
ZE06-661
800
80
45
200
62
●
 
 
Super Moto-Medium
ZE06-665
800
95
60
200
62
●
 
 
FMX
ZE06-671
802
108
70
220
54
●
 
 
FMX-TAKA
ZE06-674
777
123
70
228
56
●
 
 
Trial Competition
ZE06-754
797
99
62
178
45
●
 
 
Trial Competition-2
ZE06-755
797
108
58
180
40
●
 
 
Mini Racer-Medium
ZE06-931
750
110
77
195
55
●
 
 
Mini Racer-HIGH
ZE06-942
760
125
92
205
55
●