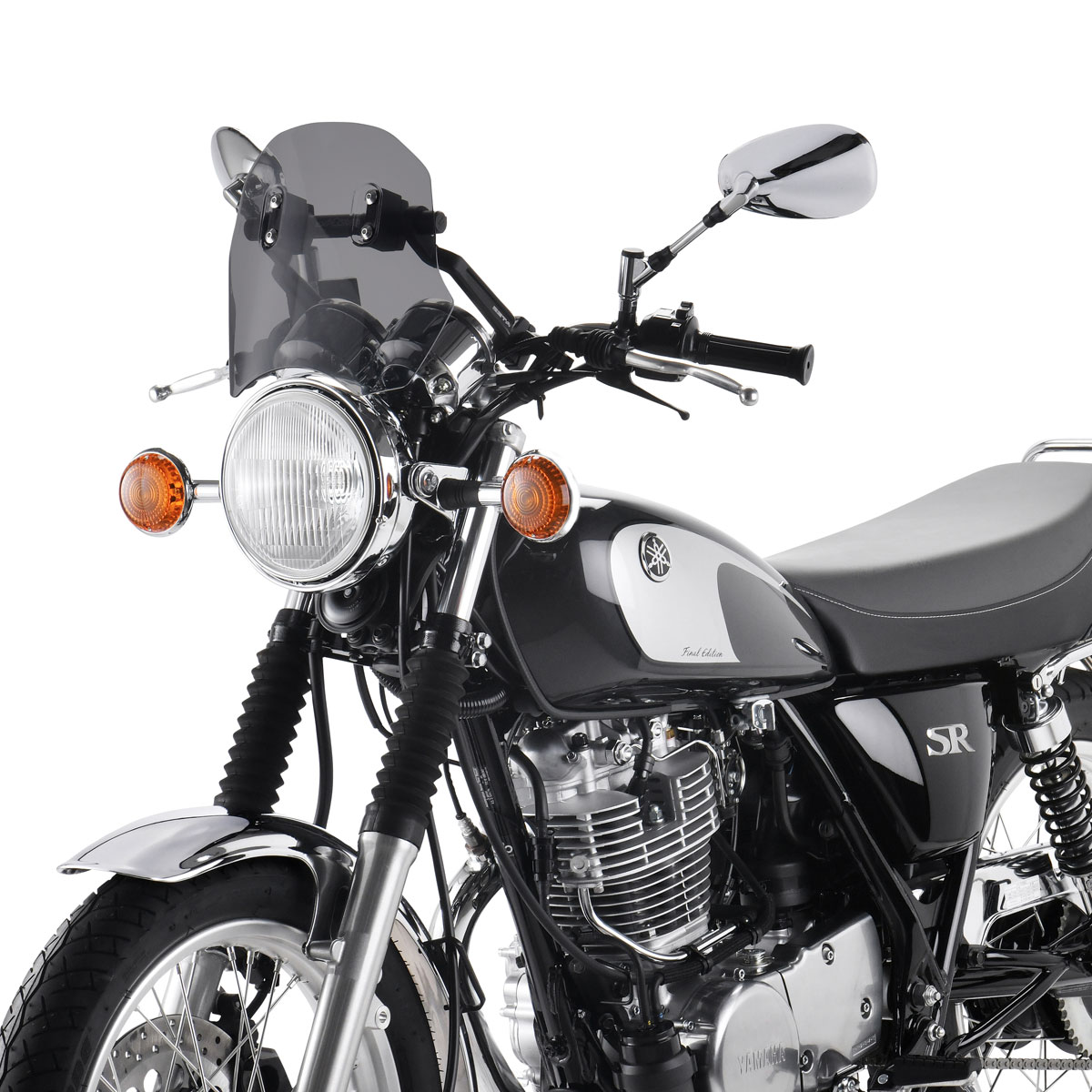 Explorer WindShield
Short screen for handlebar without brace
Movable windshield + Integrated mobile mounting bar
Bolt on design to any handlebar. Standard mounting bar for mounting mobile devices. Shield tilt angle and height are infinitely adjustable. Highly customizable, easily positioned to suit the bike and rider's physique.
Short screen for handlebar without brace. For handlebar diameter 22.2mm. Attach the special adapter to the handlebar and install the arm. Compatible with narrow handlebars such as Monkey 125 and wide handlebars for off-road use. Short screen designed to fit monocular round headlight.
*Please check if there is enough space to install the arm adapter.
#PART NUMBER : ZE70-5002

■ Standard screen
COLOR : Smoke (Transmittance 35%)
MATERIAL : Polycarbonate

■ Mounting system - Mounting Arm・Mounting Bar・Screen Adapter・Arm Adapter
MATERIAL : Aluminum
SURFACE TREATMENT : Sandblasted/black anodized finish
【Infinitely adjustable angle and height】



The angle of the arm and the angle of the screen can be adjusted, allowing for fine-tuned settings according to preference.

【Mounting bar for mobile devices】



22.2mm diameter mounting bar for mounting mobile devices. A wide range of devices, including smartphone holders and USB power supplies can be mounted.

【Arm design adjustable to fit the bike】



The windproof standard screen can be mounted upside down. This allows you to adjust your field of vision and choose your preferred styling.


The short screen cannot be mounted upside down.

【Standard screen can be flipped up or down as desired】



Can be mounted in a position that does not interfere with meter visibility or key cylinder access. Also prevents interference with wires.

[Caution]

Please note the astringent phenomenon. Do not park the car in a condition where sunlight shines directly on the inside of the screen from the rear of the bike. The astringent phenomenon may cause the screen to accumulate heat and ignite. The screen has a large adjustment range and wind resistance varies depending on the setting. After installation, please be sure to take a test run to confirm that there are no problems with the steering wheel operation.
Options Part

ZE70-1900
Adventure Wind Shield Replacement Screen
ZE70-1901
Adventure WindShield Option Large Screen
ZE70-5900
Explorer WindShield Rep Short Screen
ZE70-1910
Explorer WindShield Option Extension Mount Bar
ZE70-1950
Explorer WindShield Rep.Screen Bolt Set